In 1975, the Club obtained a 20 year lease from the Town of Midland for a scenic parcel of land on the east side of Little Lake known as the old Heathron Lodge. A large cottage on the site became the clubhouse.
Known then as the Midland Lawn Bowling Club, the group obtained initial financing from the federal government's "New Horizons for Seniors" program and the Midland Civitan Club. The official sod turning took place in the fall of 1975.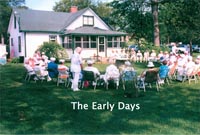 Ken Cowan stepped in as the greens-keeper and after two years of preparation, the Club was officially opened on June 27th, 1977, by then mayor, Moreland Lynn.
In 1994, the club house was expanded by refurbishing a school portable purchased from the Simcoe County Board of Education and moved to the site from Barrie.
In 2008, Ken Ellis and Ken Cowan were inducted into the Midland Sports Hall of Fame in the "Builders" category for their long time work with the Club.
Going Forward
Today, the Club is thriving. The clubhouse now has an office, members' lockers, a kitchen and a banquet/meeting room. The green is about 120 feet square and is comprised of 8 (and sometimes 9) rinks. It is flat and similar to a putting green. It is reputed to be one of the finest greens in Ontario for its consistent and fast surface. It is maintained daily by a paid greens-keeper and with the help of volunteers.
The lawn bowling season is similar to golf, mid May to October. We play 6 days a week usually with Sunday set aside for the greens-keeper. The organized play is usually in the afternoon, however, many prefer to play in the evening and thus drum up their own games. Any member can have keys that allows them to play whenever they like, within reason of course. The green has lights which allows for play well into the evening, particularly in the fall.
Our club belongs to the Ontario Lawn Bowls Association's (OLBA) District 13 which is also comprised of clubs from Collingwood, Barrie, Orillia and Stayner. You can pursue championships to the national level if you enter this competitive side of bowls.
There is very little "team commitment". Most bowling is based on a draw to create teams. There is one league (optional) sponsored by Canadian Tire. This league bowls every Monday night and has become just one of the may successful events of the Midland Lawn Bowling Club.
During the summer, the club holds "club tournaments" for members about once a week. These are optional and cost $5 extra per tournament. We also hold 4 to 5 "invitational tournaments" where players from other clubs will enter teams. Again this is optional and is a "step up" in the degree of competition. The cost is $10 extra per tournament.
Special Programs
The Club has an outstanding school program which was started in 2003. In co-ordination with elementary and secondary schools, this program introduces young people to the game of lawn bowling.
Community Living Huronia clients bowl during July. Our club provides many volunteers to provide an experience that is very satisfying and rewarding to all.
Visitors and Newcomers
Visitors are always welcome. Bowlers from other clubs around the world often drop in for a game.
Newcomers are encouraged to come out to try the sport. There is a special practice week ("Open Week") in late May (watch the local newspapers or this site for more details). All you need is comfortable clothing and flat-soled shoes or sneakers. We have 9 coaches lined up and ready to help. And, even if you show up unannounced, you will be shown the facility and how to play. After that, you are welcome to play for 2 weeks free.
The first season for new members is $70 (the cost of a round of golf). Regular members pay $140. This is the best deal in town when you consider that you could play 6 days per week (no Sunday bowling) for about 20 weeks.
Our members range in age from 10 to 90. So, come and experience bowling in Midland at the MDLBC, a "little bit of paradise by Little Lake".
---